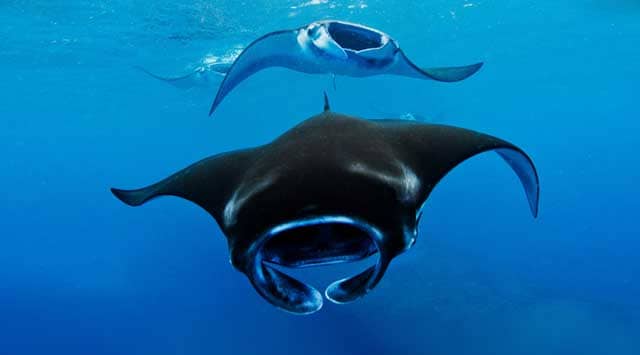 Manta Snorkeling – Hanifaru Bay UNESCO Biosphere Reserve
Manta Lagoon – A Life Time Experience
We offer excursions to Hanifaru Bay on request! The excursion takes around 4 hours with a speed boat including 1 hour in Hanifaru Bay and 1 hour at one of the nearby reefs. Please note that every guest has to pay a ticket to enter Hanifaru Bay. We will provide this tickets. For more information please contact us on spot or send an email to reethifaru@sea-explorer.com.
(source: https://www.mantatrust.org/maldives)
Hanifaru Bay is one of the best locations in the world to swim with manta rays and is famous for its mass manta aggregations! Hanifaru bay is situated within a marine protected area on the eastern edge of Baa Atoll in the central atolls of the Maldives. Hanifaru in the local Dhivehi language translates to narrow 'Hani' reef 'faru'. Hanifaru bay is a small and shallow cul-de-sac reef inlet with a sandy bottom surrounded by shallow reef along all but a small section at the western end.
Hanifaru Bay is a key aggregation site for reef manta rays (Mobula alfredi), which frequent this site primarily to feed, however whale sharks (Rhincodon typus) have also been observed feeding here. Through photo identification, the Maldivian Manta Ray Project has recorded over 1,800 individuals at this site during the last 15 years of research! This is also one of the few places in the world to witness manta rays cyclone feeding, with up to 247 individuals being recorded during one of these mass feeding events.
Due to the unique structure of the bay's outer reef, each year from May to end of November during the Southwest Monsoon (Hulhangu – local Dhivehi name), mass aggregations of feeding mantas frequently occur inside the bay. Strong lunar tides overcome the force of the prevailing monsoonal current, sucking plankton rich water from ocean depths outside the atoll back into the shallow atoll channels. In the channel next to Hanifaru Bay, these currents form a back eddy or reverse current, that traps and concentrates plankton in the shallow bay.
With the implementation of the Maldives Environmental Protection Agency (EPA) management plan in 2012, sustainable tourism practices and strict regulations are continuously being enforced within Hanifaru MPA.  These include but are not limited to; tourist and boat limits, SCUBA and fishing bans, scheduled alternation of entrance days between liveaboards and resort boats, speed limits, and specified use of entrance and exit routes. EPA Biosphere Reserve rangers are based on site to maintain the rules and regulations of the MPA. Such regulations and management initiatives are vital to ensure the efficacy of Hanifaru Bay in conserving the Maldives manta ray population, by minimising the harmful ramifications arising from human-manta ray interactions.
Hanifaru Bay – UNESCO Biosphere Reserve