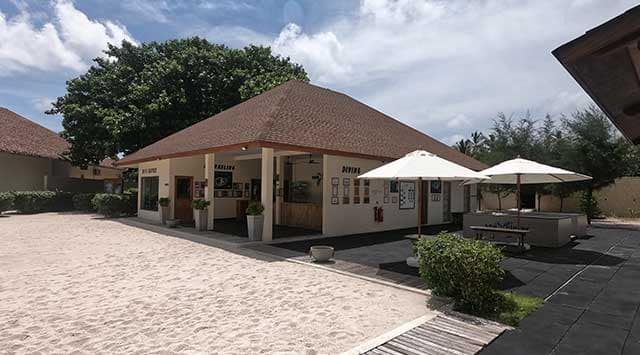 Sea Explorer Dive Center – Reethi Faru
Based at Reethi Faru Resort, Filaidhoo Island in Raa Atoll.
Apart from the dive and snorkeling excursions, the Dive Center is one of the best places to learn Scuba Diving, having over 35 years of experience in the Maldives. With PADI we have got great partner to ensure we give good service. Our instructors and Dive masters are highly qualified and speak the most common European languages.
As a PADI 5Star Dive Center we offer a range of courses, from Discover Scuba Diving to Dive Master. All the courses are done in small groups (max. 4 students) and are mostly interactive using tablets and e-Learning.
There is a Free Trial Dive every day at 11:30 in the Lagoon! Please sign up at the dive center!
The boat and house reef dives are done in small groups with a maximum of 4 divers per guide. Individual diving is also possible but must have a minimum of 50 logged dives and an Advanced Certificate. You must first have an orientation dive and consultation.
Opening Hours:
09:00 – 12:30, 14:15 – 18:00
Every day there is a free snorkeling tour at the house reef with one of our guides. We meet at 11:00 at the Dive Center. Bring your own gear or come by first and rent it from us.
Sea Explorer environmental commitment:
Our passion for the sea and our love for diving became our profession, what better reasons could anybody have to value the Oceans for what they really are, Earth's most precious commodity, that gave life to everything what is breathing now, above or below its surface.
Our goal is to reach out to our guest and the rest of the world, to create an understanding, that everything is connected on our planet, and no action is without consequences. We want to raise awareness,
That if we all make small adjustments in our lifestyle, we can make a difference.
For us it means, that we use only the absolute necessary amount of paper, for example, and do everything else on reusable sheets,
We promote the use of recycled materials, like our T-Shirts, which are made of recycled plastic bottles, and the island is virtually plastic free,
With glass bottles for the water, no plastic straws in the bars and around 80 % of the electricity is produced by solar panels we are on the right way, to reduce our environmental footprint.
If you want to do your part, please take any plastic and batteries you brought, back to your country, where these things can be handled appropriately.
Team Members:
6 Instructors, 3 Divemasters, 1 Snorkeling Instructor, 4 Helping Hands/Compressor, 1 Admin
Center Manager:
Patrick Spitz
Languages:
German, English, French, Italian, Spanish, Bangal, Dhivehi
Offer:
House reef Diving, Boat Diving, Trial Dive (for free at 11.30 every day), Diving Courses, Full day Diving Trips, Night Diving, Early Morning Diving, Snorkeling Excursions (Boat), Hanifaru Bay Snorkeling, Guided snorkeling at the house reef ( every day 11 am at the Dive Center, complimentary), Snorkeling courses
Medical Statement:
Good to have but not required!
Cylinder:
10 liter DIN (Adapters available for free), 12 liter DIN (Adaptors available for free, 12 l tank surcharge)
Equipment:
CRESSI, BigBlue, Scubapro
Full face mask:
For snorkeling: available in all sizes
Safety:
Oxygen available on all boats and in the dive center